Where everything will start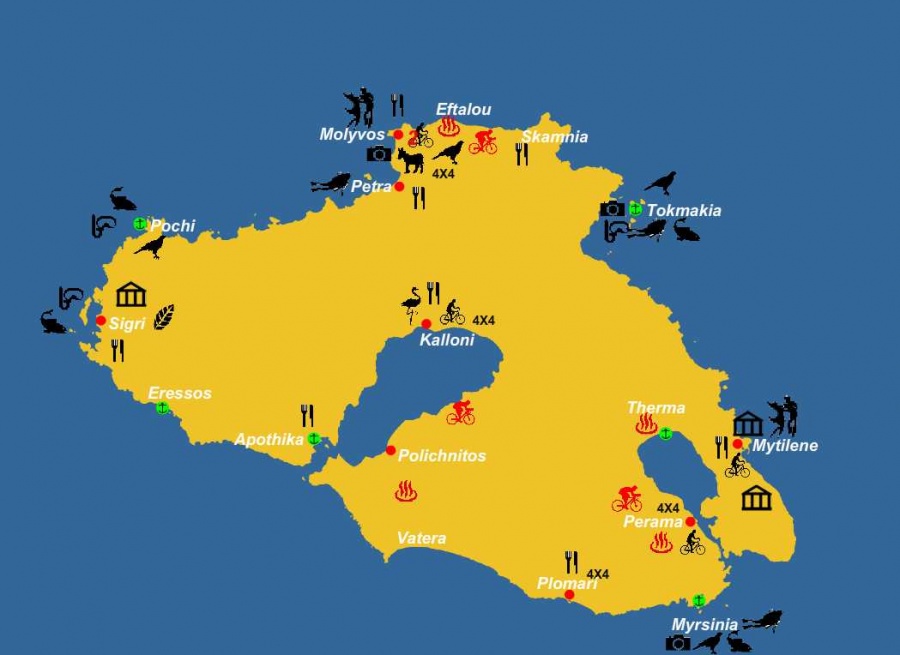 Do not ask us why people fall in love with Lesvos. Being born here we are somehow married to Lesvos. Some say that marriage kills the love, yet a partner who surprises you every day can keep love alive. This is true; Lesvos has so many "personalities" that you can not discover them all in a lifetime.
Combine sailing and Lesvos. Do it in the wise, gentle way seamanship imposes and Lesvos' fragile nature demands and you can have a paradise on earth for your vacation or even more.
* Tablet or i-phone users please open the following links to visit the relative pages about:
Mytilene
,
Tokmakia isles
,
Molivos
,
Petra
,
Sigri
,
Gulf of Kalloni
,
Plomari
,
Myrsinia isles
,
Gulf of Yera
These and many small coves and anchorages are edges of the diamond called Lesvos
If you look up the bibliography on Lesvos, you will find that countless books and articles have been written about the island. The point is that what you really care about your holidays is Lesvos today.
What you will see as soon as you set foot on Lesvos.
We will be honest with you. Lesvos is not a tourist's artificial paradise, made by the expert director to please the spectator.
Lesvos is a real place full of contrasts but it is a place where originality has managed to survive due to the potential of its nature and the people's mentality.
Behind a modern  facade, you will be able to feel the exciting pulse of nature whichever season you choose to visit Lesvos.
Long forgotten smells of flowers and herbs are everywhere.
Sounds and flavors from your childhood. Landscapes that have not yet been touched by the modern way of life.
In the eyes and the greetings of the native People you will rediscover the true, human nature striving for life but at the same time cherishing its joys.
People who have been creating art and civilization for thousands of years.
Among the countless comments about Lesvos we have chosen and recommend the following:
Matt Barrett\'s Lesvos guide
in English.
To get more organized information which can help you to plan your trip in Lesvos, please, visit this site:welcometolesvos.com