A day full of unforgettable moments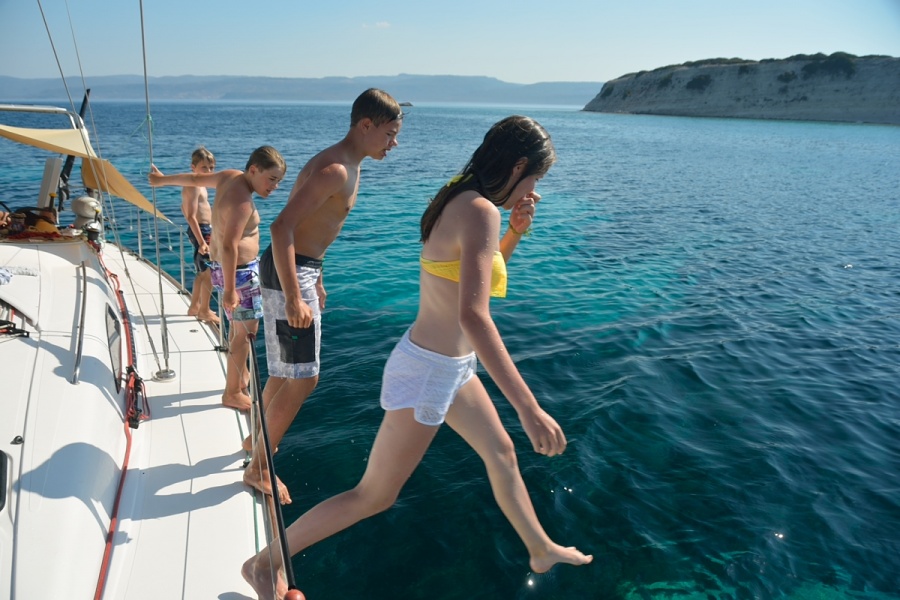 Either you are an experienced sailor or it is your first time on a sailboat, a daily sailing trip in Lesvos' waters is something you have to experience.
Our boats will leave the port early in the morning and according to the weather in a couple of exciting sailing hours we will arrive in a quiet, clearwater anchorage in the nearby isles.
On the way, a tasty snack will give you the ...energy to participate on the boat's handling.
While you will be
swimming, snorkeling, sunbathing, exploring the coastline or just relaxing
, a tasteful lunch will be prepared out of pure ingredients and local recipes.
For the rest of the day, according to your wishes, we can sail to another spot or to the open sea,  fish, put our flag to the top of the islet or find a Google mark.
We return in the evening, unless we decide to see the Full Moon while sailing back...
Fresh fruit and juices, tea or coffee will be offered in the afternoon.
Just bring your bathing-suit, a towel, sunglasses, a hat and sun-tan oil as if you go an excursion to the beach by car.
According to the Port of our departure and the weather, our choices are:
Myrsinia isles & Tart
Entrance of Yera\\\'s Gulf
Tokmakia isles
Sigri area
There are also HALF DAY trips (09.00-14.00 & 14.00-sunset).
Please check the list below for the special itineraries:001, 002, 005, 006, 007, 008, 015, 016, 018, 025, 026, 027, 091, 092, 095, 096, 097, 098.

NOTE: The price of the Daily or Half day trips will be shown as TOTAL price next to each itinerary.
Just divide the TOTAL price by 8 to get the price per person.
Special Itineraries
Pick a special itinerary to see it in our booking page