Sailing in the Aegean tastes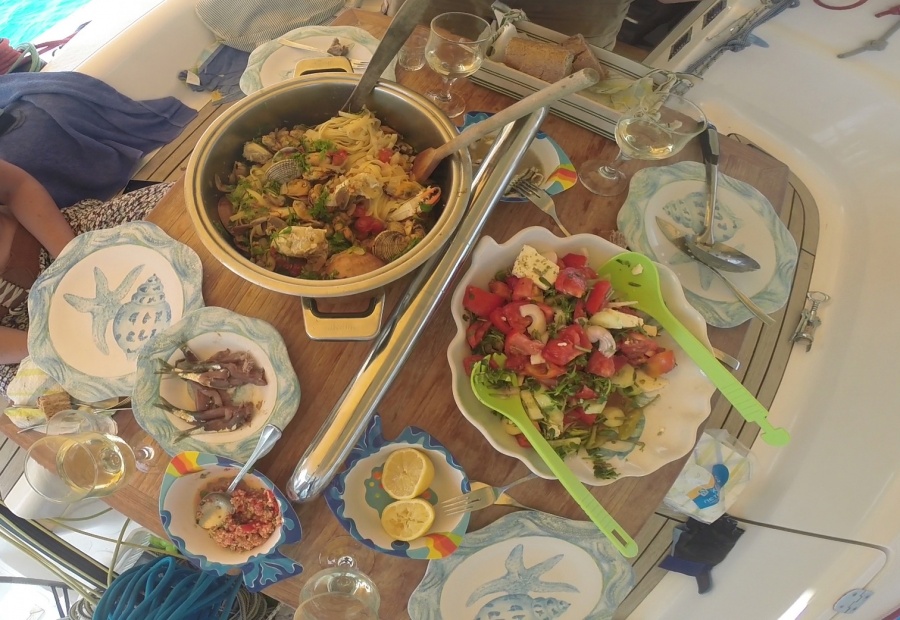 Choosing MEALS INCLUDED while in our Booking page, you let us arrange all your meals either on board or ashore.
We will communicate with you about your special wishes or confinements but in general our philosophy is to use pure ingredients and authentic local recipes.
You will have the chance to try the local kitchen for which Lesvos is famous.
The taverns we visit (usually for dinner) are carefully chosen and they know exactly what we expect in quality.
Even if you are vegetarian or vegan we have the way to please you with excellent dishes.
Breakfast on board includes:
Coffee, milk or tee
Marmalades
Honey
Eggs
Butter
Cheese
Fresh bread
Lunch on board is usually sea food, salads, cold dishes and fruits.
Coffee or tea in the afternoon.
Dinner at local taverns is something Greece is famous worldwide. Not only the food but the atmosphere as well will be an unforgettable memory.
Dinner on board. When we stay overnight in deserted bays then we will surprise you with the meals that can be cooked onboard. 
You will find the prices fair.

*Alcoholic dr
inks are not included in price but you can add them in your provision list.
We do offer though a glass of white wine, ouzo or a beer/person in each meal.