Around an island or a World?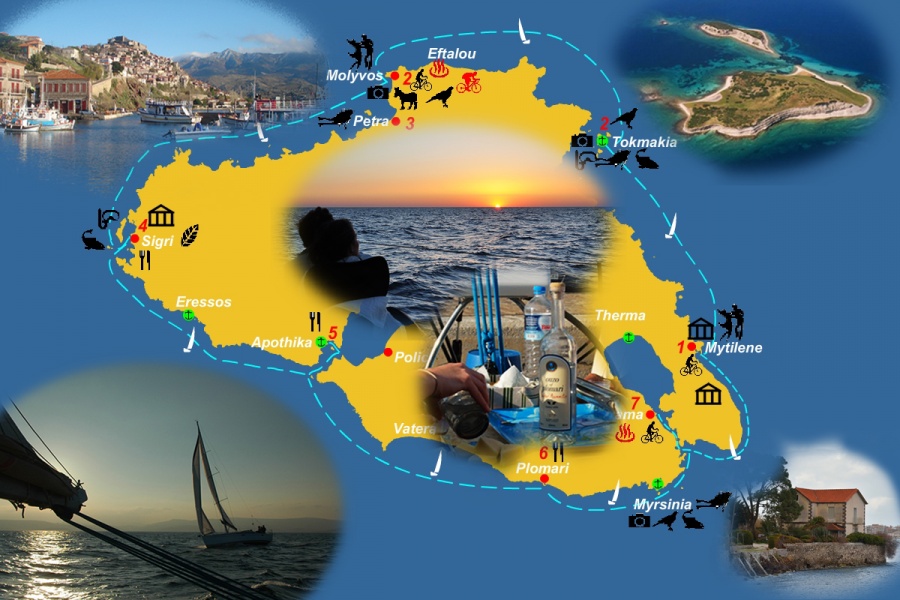 Sailing around an island or along a coastline is not a sailor's most exciting choice. We know that very well.
BUT...Lesvos has such a variety in its landscape, weather conditions, architecture, even ... the local accent that it can make you believe you are on a different island in every port.
Not to mention the difference between the Coast and the Mainland, the East and the West, the North and the South...
Please, click on the map to have an idea of the main ports and anchorages (many more to be discovered) and what each one offers to a visitor by sea.
We usually start from Mytilene and most of the times (especially during the summer) we follow the counterclockwise course. This way we take advantage of the prevailing winds for fast upwind and beam reach sailing trips.
Our main stops are, Tokmakia isles, Tsonia, Molivos, Petra, Pochi isl area, Sigri, Tsichliota, Eressos, Chroussos, Apothika, Skala Polichnitos, Skala, Kallonis, Vatera, Kryfi Panagia, Plomari, Tarti, Myrsinia isles, Tsilia, the Entrance of Yera's Gulf, Perama, Therma, and Skala Loutra while countless other small coves are tempting us for a short stop for swim and exploration.
Each one of the stops we mention above is a different edge of the diamond called Lesvos. 
According to the trip's duration and your interests we will shape the itinerary together.
Special Itineraries
Pick a special itinerary to see it in our booking page